Kizhakkeparambil Mathai Varughese (K. M. Varughese) was born and raised in a Christian family in Padimon, a small village near Mallapally, Pathanamthitta District, Kerala State, South India. His God-fearing parents dedicated him to the service of the Lord, and God set him apart in due time for the ministry. He began his Biblical studies in 1968 as a teenager. After completing his courses at Hebron Bible College, Kumbanad, and Shalom Bible College, Kottayam earned his B.S. in Pastoral ministry with high honors from Southeastern University Lakeland (FL).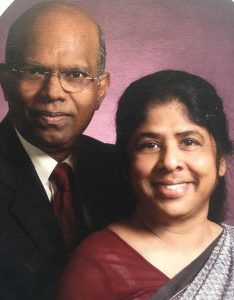 He has been in the ministry for almost a half-century. He has imparted wisdom and counsel, pioneered, pastored, and cared for several churches in North India, the Gulf, and later on in the various states of North America. Upon invitation, he came to the U.S. in 1991, along with his family, to serve as the Senior Pastor of IPC Hebron, Dallas (TX). He has since completed his ministries in Dallas (TX), Lakeland (FL), Chicago (IL), and Los Angeles (CA). Beginning July of 2017, Pastor K. M. Varughese took charge as our Senior Pastor. We pray and believe that with God's help and with his God-given abilities, he will lead Bethel Pentecostal Assembly to greater heights.
Pastor Varughese, well known for his theological values, is a blessed teacher, author, and songwriter. He has also served as the President of the North-East zone of the IPC Northern Region (India) and IPC Midwest Region (US). He was the convener of the successfully and notably held 27th PCNAK conference in 2009 in Chicago. While for many, he is a great leader and administrator, to us, he is a Pastor with a purpose, a man of integrity, a voice of wisdom, and a close friend. We will always love him dearly!
He is married to a dedicated Christian woman, Annamma Varughese (our loving "Pastor Ammama"), for more than 39 years now. They have two talented sons, Finny and Denny, and nine lovely grandchildren. Though both his sons have a background in Software Engineering, Finny is currently pursuing his Ph.D. at Dallas Theological Seminary, Dallas (TX), and Denny is pursuing his Doctor of Ministry at BIOLA's Talbot School of Theology, La Mirada (CA). Both his sons and their families follow in their parents' footsteps and support their father's ministry.