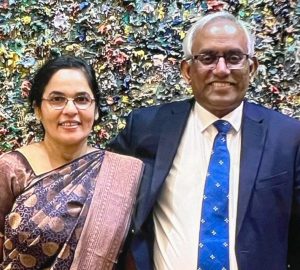 Our Pastor, T. S. Abraham (Thattarath Skaria Abraham), was born and raised in a Roman Catholic Family in Kottayam, Kerala. After his parents came to know the Lord through the Ministry of India Pentecostal Church in Illickal, Kottayam, he and his siblings (his brother and sister) had the privilege of coming to Pentecostal faith through the Ministry of the Full Gospel Church of God.  In 1972 he received the Lord as his personal savior, and in the same year, the immersion water Baptism and the Baptism of the HS. And they all became active members of the Full Gospel Church of God in India, at Thiruvarppu, Kottayam. He had his theological education from Faith Chapel Seminary, BBBC Bangalore, Asian Christian Academy, and Dallas Theological Seminary.
In 1987 along with his pastoral ministry, he started to teach God's word in various Theological Institutions in Bangalore. In addition, he taught New Testament Greek, Theology, Bible Expositions, and Biblical Hermeneutics at Asian Christian Academy, Asia Evangelical Theological Seminary, Bible Believing Churches, and Missions. He is on the Faculty of the Dallas School of Theology in Garland, Texas, where he has been teaching various Bible subjects for the last 12 years.
Apart from the teaching ministry of God's Word in Theological Institutions, he was actively involved as a teaching Pastor in many Churches in Texas, a convention preacher, and a visiting missionary to India.
He is married to his beloved wife Molly Abraham for thirty-six years now, who is also a convert from the Knanaya Jacobite Faith. Pastor T S Abraham and Molly are blessed with a son, Soden Abraham. Soden and his wife, Priscilla, live in Dallas, Texas.
It is our Joy to have Pastor T.S. Abraham lead the church in all our spiritual activities.